TOP CRUISE FOOD AND DINING EXPERIENCES:
Adventures in Fine Dining, Eating, Drinking, and Learning
In this article you will find:
Always Eating, Evaluating, and Storytelling
Getting to Know the New You
Supply Chains, Procurement, and Food Appreciation
Cruises Noted for Good Dining
Celebrity Chefs and Specialty Dining
Food, Wine, and Beer Themed Cruises
Culinary Schools, Demonstrations, and Market Tours
Dress Codes and Dining Etiquette
Video Tours of Cruise Restaurants
The Dark Side of Heaven -- Stay Healthy, Safe, and Alive!
Food glorious! Welcome to one of the culinary industry's most intriguing activities – thousands of chefs operating hundreds of floating restaurants that feed 30 million+ cruise passengers a year. On any given day, cruise ships are feeding over 500,000 passengers (average cruise is 7 days). This is a fascinating story about hungry cruisers (like armies, many travel on their stomachs!), calories, meet ups, fun, conversations, and relationships. While few Michelin star chefs operate on the high seas, their presence is increasingly felt as more and more cruise lines attempt to create gastronomic temples that appeal to increasingly more sophisticated and affluent travelers. Indeed, fine dining is a top cruise attraction for many passengers . . . and to top international chefs who wish to extend their reputations into the glamorous cruise world.
There's something about food and drink that bring people together as well as pull them apart. If you're a real foodie, you can't help yourself – you'll be critical of your dining experiences (do you post restaurant reviews on TripAdvisor?), from the crowds (#1 cruise complaint) to the quality of food to service-related issues. Indeed, food also is one of the top 5 cruise complaints, usually centering on the quality, quantity, and temperature of the buffet and egged-on by Internet rating sites. Just don't hog the food critic space. After all, everyone on board is more or less a food expert since they've been eating all their lives. Just ask them — you'll find you're not alone! You'll also find your tastes are not the same. So, let's take an inside look at the cruise culinary scene – both onboard and onshore.
Always Eating, Evaluating, and Storytelling
When it comes to cruising, food can be fun as well as complicated.
It also can be an educational experience, complete with cooking schools, classes, demonstrations, competitions, and chef tours to local fresh food markets. The experiential possibilities for cruise food seem endless! 
Food is usually at the center of relationships on cruise ships. Being part of a crowded captive audience, you usually meet and enjoy strangers over food and drink. It's the mother milk for developing new friendships, interesting conversations, and fun relationships. If, for example, you feel lonely on a cruise, just head for the dining room, bar, or lounge where you'll have little difficulty meeting people and striking up conversations. If you have assigned seating, or can request a table with others in a dining room, depending on how the relationship evolves, you may enjoy meeting again and perhaps doing other things together, such as going to the lounge and then to the theater, and maybe revisit the bar for a nightcap, go dancing, or engage in a fun-filled karaoke session! Perhaps you'll also join the same onshore excursions. Not surprisingly, dining in nice places, sampling good food, and making new friends often go hand-in-hand in cruise food land.
Getting to Know the New You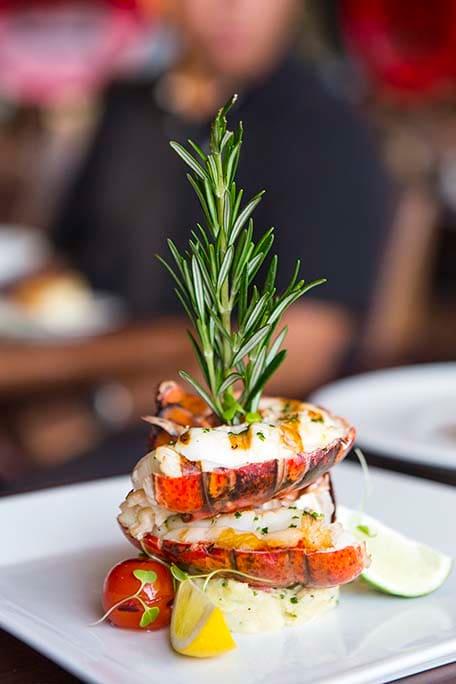 Food and drink have always played central roles in cruising. Even before getting onboard, many prospective cruisers ask their booking agent "How's the food on this ship?" Seasoned travel agents often know and share their "inside stories" with their clients. Once onboard, many cruisers find they are suddenly eating and dining with strangers and learning about their travels, family, and work. Unfortunately, many cruisers change their eating habits and two weeks later leave the ship with a 5 to 10 pound weight gain! Post-cruise diets seem to be popular with many cruisers.
Whether a small 80-passenger river cruise, an expedition ship with one dining room, or a mega cruise ship with 5,000+ passengers being served from huge kitchens and 20+ fine dining and casual food outlets, food and drink are often at the center of many onboard activities and conversations. Indeed, a cruise line's reputation often rises and falls on the quality of its food and the efficiency of its food service, from fine dining restaurants, central dining rooms, and buffets to specialty food outlets and cafes. After all, cruisers spend a disproportionate amount of time eating and drinking with family, friends, and strangers. What better subject to strike up a conversation than the food and drink you're consuming.
Some cruise lines, such as Oceania Cruises, which brands itself as the cruise line with The Finest Cuisine at Sea®, advertise their talented chefs, culinary skills, and specialty restaurants. It includes an onboard culinary school and onshore tours of food markets. Many of Oceania's repeat passengers choose this cruise line, because it offers exceptional fine dining and unique culinary experiences.
Supply Chains, Procurement, and Food Appreciation
Most cruisers only see the finished product – food artfully presented to them on plates in restaurants and other food outlets. Few ever see the hectic behind-the-scenes procurement, storage, and processing operations. Take, for example, the largest cruise ship in the world – the 228,081-ton Symphony of the Seas operated by Royal Caribbean Cruises. This is literally a floating city that keeps it kitchens buzzing 24/7. The ship serves 30,000 meals a day to its 6,600 passengers through 23 different restaurants. That means it sails with 60,000 eggs, 10,000 pounds of chicken, 20,000 pounds of potatoes, and 700 pounds of ice cream. It also services 42 bars and lounges. Food is processed in 36 kitchens by a culinary team of 1,000+, including 280 chefs who work 10 to 12 hours a day, 7 days a week, and four-month stretches without a break! A massive international supply chain and procurement operation acquires and stores tons of fresh and frozen foods in dockside warehouses, freezers, and refrigeration units. And then more food, especially fresh fish and vegetables, needs to be procured en route to various ports.
If you have a chance to take a cruise ship galley tour or dine in the kitchen at a special chef's table, please do. You'll be amazed at what you see in the busy kitchens of a ship. It's a good way to spend part of a sea day and an opportunity to meet the ship's talented international chefs who work on a very grand scale (no more mom-and-pop restaurants — this is the "big time"). Indeed, you'll most likely walk away with renewed appreciation for the cruise ship's food services – from planning menus and producing thousands of fancy deserts to seamlessly delivering hot ala carte dishes to your table as well as to your room while, at the same time, responding to food allergies and dietary restrictions of passengers. The kitchens also handle extensive buffets, fine dining, and special occasions, events, and receptions. 
If a chef also organizes an onshore food shopping tour to a local fresh food market (fish, fruits, and vegetables are always in demand), take that tour also. Experiencing these two tours will forever change your perceptions of cruise dining. Some of the best such tours are sponsored by Oceania, Seabourn, Silversea, Viking, Holland America, and Celebrity Cruises. Many cruise ships offer onboard tours, which include a stop in the galley and briefings by chefs. Most of these tours cost extra – from $75 to $200 per person. Princess, Holland America, Royal Caribbean, Azamara, and Carnival Cruises also offer a chef table experience – guests literally dine at a table in a kitchen and sample a special "chef's best" menu.
Serious foodies who love to cruise are especially drawn to cruise ships that have reputations for talented chefs, exceptional food and dining experiences, and special food and wine events, including festivals and culinary schools. Join one of these cruises and you'll be in food heaven – even better than your favorite dining experiences back home!
Cruises Noted for Good Dining
The following cruise lines, categorized by size and quality, have reputations for offering exceptional food experiences. Most of the best restaurants are the new breed of fine dining restaurants (many charge extra and reservations are usually required). Here's the current (pre-COVID-19 cruising) collection of the "best of the best" in cruise dining: 
Luxury Cruise Lines
Crystal Cruises

(Umi Uma and Sushi Bar, Prego, Crystal Dining Room)

Silversea Cruises

(Seishin, La Dame, Atlantide, Indochine)

Regent Seven Seas Cruises

(Chartreuse and Prime 7)

Seabourn Cruises

(The Grill by Thomas Keller and Sushi in The Club)
Premium Cruise Lines 
Oceania Cruises

(Jacques and Toscana)

Windstar Cruises

(Amphora and Cuadro 44)

Viking Ocean Cruises

(Manfredi's Italian and The Chef's Table)

Azamara Cruises

(Aqualina and Prime C)
Mainstream Cruise Lines
Disney Cruise Line

(Remy and Palo)

Holland American Line

(Pinnacle Grill and Rudi's Sel De Mer)

Celebrity Cruises

(Tuscan Grille and QSine Restaurant)

Royal Caribbean Cruises

(Chops Grille and 150 Central Park)

Norwegian Cruise Line

(Cagney's Steakhouse and Teppanyaki)

Princess Cruises

(Crown Grill and Salty Dog Gastropub)

Carnival Cruise Line

(Guy's Pig & Anchor and Bansai Teppanyaki)

MSC

(Ocean Cay)
Of all cruise lines, Oceania Cruises puts the greatest effort into its food. Indeed, it claims to offer the best cuisine of any cruise line. Its large Marina ship has partnered with Bon Appetit Magazine. It offers cooking classes, food demonstrations, open seating, anytime dining, and onshore shopping with the chef. If you're a real foodie, be sure to check out Oceania Cruises, especially the restaurants and food activities offered on its two largest ships – Marina and Riviera. Be sure to dine in the stately Grand Dining Room, Jacques, Red Ginger, Toscana, and the Polo Grill.
Celebrity Chefs and Specialty Dining
Recognizing the importance of food, more and more cruise lines have upgraded the food experience with specialty restaurants (many include upcharges ranging from $30 to $150), celebrity chefs, and more food outlets. Buffets continue to draw the casual all-you-can-eat crowd who can easily pack on extra pounds with new eating habits (beware of the popular self-serve soft ice cream dispenser!). 
Several cruise lines have partnered with celebrity chefs, famous food magazines, and noted cooking schools. The result is a new class of onboard destination restaurants. Who wants to dine onshore when the best restaurants are on the ship and almost free (some have upcharges)? This group of celebrity chefs has made onboard dining an appealing class act for everyone onboard: Thomas Keller (Seabourn), Jacques Pepin (Oceania), Jamie Oliver (on 6 Royal Caribbean ships – Jamie's Italian), Guy Fieri (Carnival), Curtis Stone (Princess Cruises), Michael Schwartz (Royal Caribbean ships), and Nobuyuki Matsuhisa (Crystal). Their ships are branded around their signature restaurants. 
The most highly praised restaurants on various ocean cruise ships include:
Chartreuse

(French) – Regent 

The Grill by Thomas Keller

(American) – Seabourn

Tuscan Grille

(Italian) – Celebrity

Remy

(French) – Disney

Prime 7

(Steak/Seafood) – Regent

Red Ginger

(Asian Fusion) – Oceania

Jacques

(French) — Oceania

Guy's Burger Joint

(American) – Carnival

Umi Uma and Sushi Bar

(Japanese) — Crystal

Onda by Scarpetta

(Italian) – Norwegian

Pinnacle Grille

(Pacific Northwest/American) – Holland America

Crown Grill

(Steak/Seafood) – Princess

The Epicurean

(molecular gastronomy) – P&O Cruises

Umi Uma

(Japanese) — Crystal

La Dame

(French) – Silversea

Manifredi's

(Italian) – Viking

The Verandah

(Steak) – Cunard
Food, Wine, and Beer Themed Cruises
Since food and drink go hand-in-hand on cruise ships, these seven cruise lines offer a variety of food, wine, and beer-themed cruises:
American Cruise Lines

 

— food and wine cruises, lobster bake cruises, crabfest cruises, regional cuisine cruises (focuses on food themes in each of its destinations)
Avalon Waterways

 

– food, wine, and beer cruises
Crystal Cruises

 

— food and wine festival; celebrity chefs
Cunard

 

— food and wine festival voyages
Holland America

 

– Food & Wine Aficionado cruises
Oceania

 

— celebrity chef cruises with Oceania's food heroes, Jacques and Claudine Pepin
Silversea

 

— culinary and wine cruises
Culinary Schools, Demonstrations, and Market Tours
Several cruise lines offer popular culinary schools, cooking classes, food demonstrations, cooking competitions, and chef-led tours to local food markets that are part of their enrichment and entertainment programs (or what we call "edutainment"). With space limited, participation in these programs can cost from $0 to $250 per person. Be sure to arrange such tours early since participation and reservations are on a first-come, first-served basis.  
The leading culinary cruise line is Oceania. It retains the dominate position in the cruise industry's culinary space. However, other cruise lines, especially Regent and Viking, have rapidly moved into this space with their own chef-led activities. Here's a sampling of what's currently available (always ask your booking agent and cruise line for culinary updates – "What's the culinary scene like on my upcoming cruise?").
Dress Codes and Dining Etiquette
Many cruisers are uncertain about how to dress on board, especially in the ship's restaurants – sloppy, casual, smart casual, or formal? What about wearing shorts, T-shirts, and flip-flops for those who think they're dining on the beach? The good and bad news is that most ships have dress codes, which tend to be relatively casual or smart casual these days; some are more formal than others. Cunard (Queen Mary 2, Queen Elizabeth, and Queen Victoria), for example, asks guests to wear formal attire in the evening at most bars, restaurants, and entertainment venues. And then there's Cunard's much loved and anticipated dressy Galla Balls (2-3 per cruise).
If you plan to dine in the main dining room or in high-end specialty restaurants, it's a good idea to dress as if you belong there and observe ship dress codes and etiquette – i.e., get dressed up as you would back home. But the best way to figure out the dress code is to simply ask either before or after you board the ship. Also, visit the restaurant the day before to observe how everyone is dressed (Do they look joyful?) and speak with the maitre d' about the dress code and other dining issues (Can you switch your assigned seating times? Will the First Seating give you sufficient time to get to the show? Who will you sit with? How do you request a different table to end your suffering if during the first course you can't stand obnoxious tablemates?).
For a good overview of each cruise line's dress code, check out this CruiseCritic article on "What Should I Wear on a Cruise? A Guide to Cruise Line Dress Codes." Or just Google "cruise ship dress codes."
The same is true for food etiquette. If you're uncertain about when and where to dine, reservations, upcharges, water, and wine, just ask at the restaurant.
And don't forget these five drinking and dining issues:
Many less than inclusive cruise lines have reputations for nickeling and diming their guests for everything from water and coffee to soft drinks, beers, wines, and spirits. If you're uncertain about what's included and excluded on your tab, always ask about the costs. Also, pack a water bottle and refill it with tap water, which is very safe to drink.
If you want to dine in a specialty restaurant, make your reservation as soon as possible – the day you arrive onboard.
You can order as many main courses and desserts as you want. All free restaurants are all-you-can-eat restaurants.
You don't have to dine at your assigned table. If you want to sit elsewhere, ask to be moved.
You don't have to dine in a restaurant. You can always order room serve for breakfast, lunch, and dinner, or anytime day or night (some cruise lines may charge for late night room service).
Video Tours of Cruise Restaurants
You'll find thousands of videos on YouTube and cruise websites featuring cruise ship tours with special reference to restaurants and the culinary arts. The following cruise lines periodically conduct video tours of their top restaurants, and many outsiders (travel writers, vloggers, and so-called social media "influencers") also develop videos on cruise ship restaurants. Here is a sampling of some of the many restaurants and dining experiences afloat:
The Dark Side of Heaven — Stay Healthy, Safe, and Alive!
Whatever you do — and despite all the tempting food and drinks around you that shout "EAT AND DRINK ME!" — try to stay as healthy and safe as possible. While many seniors are very healthy, others live on the edge of darkness (just look at the diverse clientele at boarding time – some literally may be dying to get on board what may well become their final cruise). That means exercising as much self-control as possible when eating and drinking as well as simply exercising by frequently walking the ship (10,000 steps is a healthy rule), using the ship's fitness center, or downloading and following the workout routines on the Nike Training Club app (for both iOS and Android devises — smart phones, smart watches, and tablets).Ship tours introduce passengers to the spa and fitness center, but for some very good reasons they all skip the morgue (it's usually located on one of the lowest decks, away from passengers, and may be a stainless-steel refrigeration room with compartments for storing bodies) and the brig (at a lower level or in a guarded windowless room). Your ship has a morgue, which occasionally gets used for the unlucky few (nearly 300 people die each year on cruise ships – odds are 1 in 100,000 of dying-while-cruising — and on average 2.5 cruise ships sink each year). Just make sure you don't make an unscheduled and final visit to that cold cold room!  As for the brig, a bad drinking bout for someone with ugly anger issues could result in a special one-person tour to the brig . . . and beyond (your next cruise port could well be your last cruise stop).